Meet Beatrice Ajayi
Beatrice Ajayi is an artist based in Scotland who tells stories with her brush. Using her imagination as a starting point, she forms narratives using the medium she feels is best suited to the tell her tale – like a writer choosing their words – creating confident, colourful pieces with a sense of the wonderful. Here Beatrice talks to fellow Scot and Folksy artist Dee Leslie from The Butterfly and Toadstool about her work…
There is always a story around us… whether it makes sense or not is another thing. 

Beatrice Ajayi
Hi Beatrice, please could you start by introducing yourself?
Hi my name is Beatrice Ajayi and I am an artist, illustrator and author from Scotland.
Tell us about your creative journey. Did you study art at school or further education or are you self-taught?
I used to draw with pencils or biro pens when I was younger. I didn't used colour to the extent I do now until I started painting digitally, which allowed me to experiment without worrying I was wasting paint. I studied Art & Design at Croydon College in Surrey and went on to do a BA Honours in Fine Art at Nottingham Trent University. I would say university gave me the knowledge of the tools I could use creatively. 
How would you describe your work, and how did your style develop?
While at university my work was based around narrative: the story behind the visual. I think of myself as a storyteller and I use the medium I feel tells a particular story best. The buzz words that inform my work are innocence, nature, adventure, boldness, wonder, courage and uniqueness.
What inspires you?
Nature, people, stories… I could make a whole story about a leaf floating across the windscreen of my car. I could take note of the colour of the leaf, the way it moved, its, journey, its goal. I like to write poetry too.
I see that you work with traditional paint, digital art and clay. Do you have a favourite medium and why?
I would say I have a favourite or preferred medium for particular narratives. If I created something in clay it would be a different process from painting. With clay there are sounds as the wet clay is folded and adjusted into shape. They all have different sensory experiences.
Your paintings are so wonderfully textured. How do you achieve that?
I work mainly in acrylic paint, which dries fast even in thick layers. I also sometimes add collage of different fabrics or paper, but usually I use acrylic paint, incorporating gestures and marks with brushes, handmade tools and palette knives.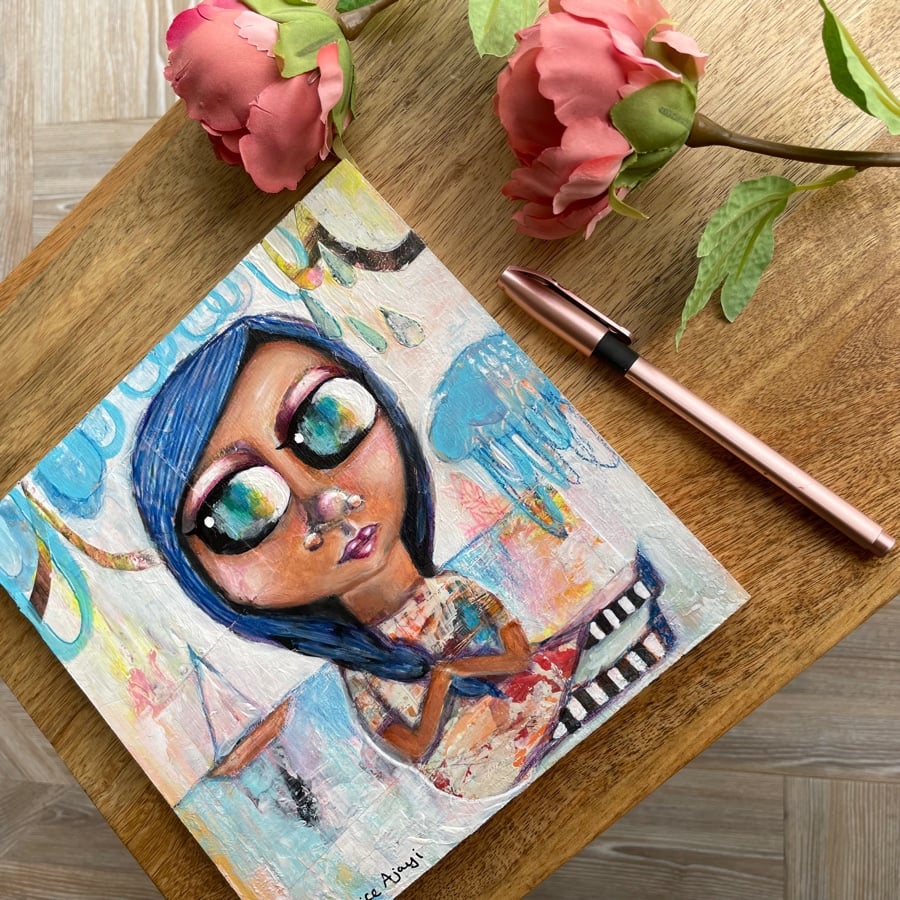 What's your favourite piece you have ever created and why?
That's a hard one. I think the stylised children's illustrations would be my favourite because they were spurred out of making art that looked specifically like my children, especially my daughter who has big eyes. That was the beginning of my big-eyed kids collection.
Where do you go for inspiration if you ever find yourself stuck in a rut? Does this happen?
It's always about a story. It can be anywhere. I love to dig into my imagination. Sitting in my kitchen area right now with this question, what popped into my head was my mango wood side table. Maybe he's a bit unhappy because he has a plant pot on his head and no one uses him for drinking their tea. I could illustrate his face and go from there.
There is always a story around us… whether it makes sense or not is another thing.
The buzz words that inform my work are innocence, nature, adventure, boldness, wonder, courage and uniqueness.

Beatrice Ajayi
What's your biggest dream when it comes to your art business?
I love sharing my creative journey, and would love to expand that in a way that helps others more. I want to tutor locally (or internationally) and I would love to have a way to share what I have learned.
I see that you've just exhibited your work at a spring art show. What advice would you give to budding artists hoping to show their work in galleries?
I have learned to work in a series. It helps as a practice to do this because you start to recognise more and more what you like and don't like. You show consistency.
If there is a gallery you would like to be shown in, don't take all your work straight away without an appointment. Visit them first and learn about them. Then ask if there is a good time to come in when it's not too busy and the manager or curator can look at your work. Don't be disheartened if a gallery doesn't end up being part of your list of stockists. Take their advice, where applicable, and keep going.
We have tools now that I didn't have at the beginning of my journey, so use them to share your work online and on social media. Galleries can find you there too.
What advice would you share with your younger self?
Don't be self-conscious. Let all your creativity out. Beauty is in the eye of the beholder. We are never the judge of our own artwork. People will love what they love. Don't compromise your creativity. Reach for the stars. 
---
Meet the interviewer
The maker asking the questions this time is Dee Leslie from The Butterfly and Toadstool a designer based on the west coast of Scotland who has a deep connection to nature. Read more about Dee in her interview >